Further Information

Blue Dolphin Tours
Address:
Hervey Bay, QLD 4655
Telephone:
07 4124 9600
Join Hervey Bay's only multi-award winning whale watching sail vessel. We are also the smallest in the fleet at just 10.5m in length. Most of the whales we see are 10 to 13 metres in length and 30 tonnes or more, that's over 5 times our weight. So when you see a whale from Blue Dolphin you really see a whale!
From 23rd July to November Hervey Bay and Fraser Island in Queensland is thriving with the most magnificent and beautiful humpback whales. Every year the whales return to Hervey Bays calm and crystal clear waters where they teach their newly born calf's to feed and communicate before swimming on south back to their feeding ground in Antarctica. Along with the mother whales and calfs, Hervey Bay and Fraser Island also see the return of the "teenagers". The teenagers return to learn the migratory route as well as be cheeky and have fun as all teenagers do.
Occasionally we see the "heat runs" where the males chase a female at an extraordinary speed changing direction sometimes on a 0 degree axis so that they can mate with their chosen female. This is very exciting to watch and experience first hand.
Your skipper Peter has over 26 years experience with marine mammals, 14 years of which were spent as marine mammal trainer at Seaworld. During those years Peter was involved with saving many stranded marine mammals. You can rest assured that your day will be as informative as you like thanks to Peters experience and he welcomes all your questions so make sure you ask.
The cruise is a full day with morning and afternoon tea and lunch provided. The vessel is also fully licensed serving wine, beer and pre-mixed spirits.
Dolphin Watching Tours - Hervey Bay/Fraser Island
The morning Dolphin Cruise is on the waters of the Great Sandy Straits by Hervey Bay and Fraser Island. Here we look for the bottlenose dolphins (aduncas) and the indo-pacific humpback dolphins (sousa chineses), which is a lesser known species. Both of these species reside in small residential pods of up to 20 and are found around Hervey Bay and Fraser Island. The waters are also home to dugongs, turtles, seabirds and other marine life.
Our dolphin watching tours started back in December 1996 and we have maintained a 90% to 95 % success rate for finding the dolphins.
The cruise lasts for around 4 hours and morning tea is provided. During summer and weather permitting we also manage a swim on one of the shallow sand banks.
The bottlenose dolphin is the better known of the two species and we now have about 25 individuals we can recognized by their dorsal fin. We have been working on a photo id catalogue for the last couple of years.
The indo-pacific humpback is a little bit smaller and a little harder to find and photograph them can be a difficult task but can be well worth it. Most guests have never seen this species before so it is always a good day when we see them.
The dugongs of the Great Sandy Straits have been heavily impacted upon in the recent years by floods down the Mary and Susan River systems and the loss of the sea grass beds. On the days that we encounter a dugong it is a great bonus for all on board.
Champagne Sunset Sail
Sit back & relax while we cruise around Hervey Bay and Fraser Island on our luxury yacht giving you the change to take in the beautiful panoramic views.
Sip champagne as the sun sets over the waters of the Great Sandy Strait.
Join us for pre-dinner drinks with a delicious finger food platter for all.
The champagne sunset sail last for 90 minutes around Hervey Bay and Fraser Island. All your champagne, beer or wine is fully inclusive and there are also soft drinks and orange juice available as well.
There is no better way wind down after a long day work, exploring Fraser Island or just to start your evening.
We also welcomes corporate and private yacht charters.
Private Charters
Blue Dolphin is available for your exclusive use for birthdays, engagements and weddings.
The vessel is surveyed for over 30 passengers, with the ideal group size beening  10 or more.
We are fully licensed and can provide meals or you are welcome to bring your own food.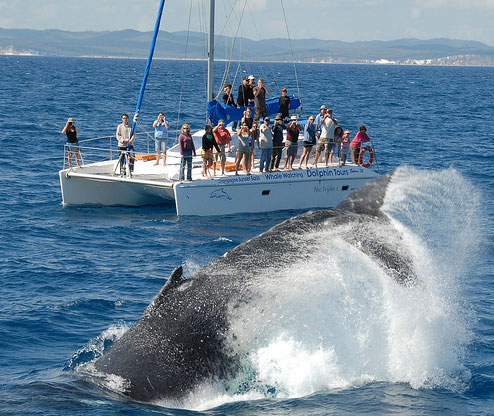 Categories: Tours, WhaleWatching
---